Partnership celebrated at Healthwatch Recognition Awards
IC24 and South East Coast Ambulance Service praised for patient involvement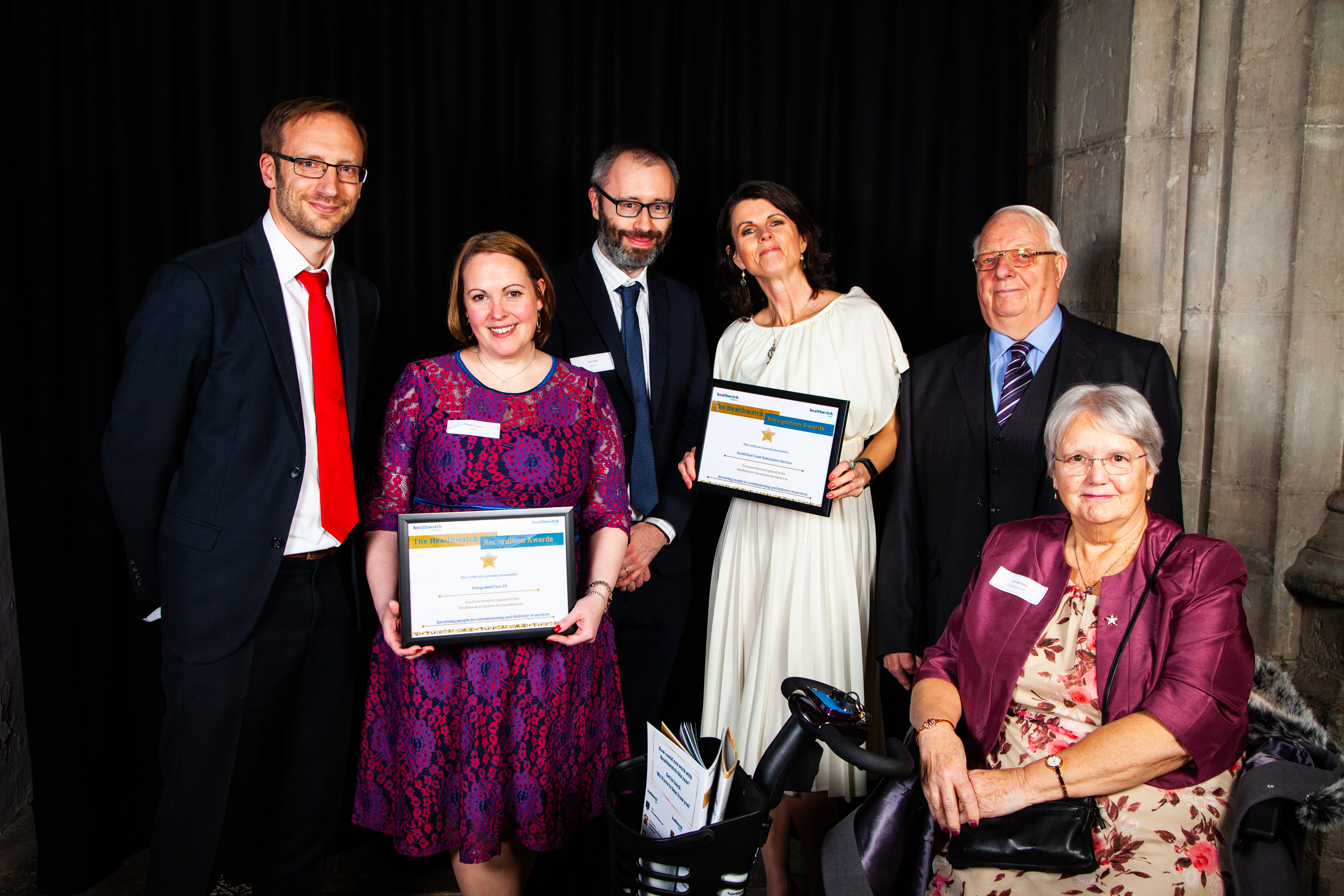 Integrated Care 24 (IC24) and South East Coast Ambulance Service NHS Foundation Trust (SECAmb) have been recognised at a prestigious award ceremony for their work to involve patients and the public in the design, procurement and implementation of the new enhanced NHS 111 service for Kent, Medway and Sussex.
IC24 and SECAmb were recognised in the 'Involving People in the Commissioning & Delivery of Services' category in the Healthwatch Recognition Awards, organised by both Healthwatch Kent and Healthwatch Medway.
The event – in its first year – celebrated the best in health and social care in Kent and Medway. Some 200 guests came together at the ceremony, which took place last night (30 March 2022) at Revelation Ashford, to recognise the achievements and hear ideas that they can use in their own work.
IC24 and SECAmb were commended by Healthwatch for 'showing a real commitment to actively involving and listening to local people' during development and launch of their five-year contract to provide the NHS 111 service for Kent, Medway and Sussex.
Healthwatch representatives and other lay members were closely consulted via a range of programme boards and working groups, shifting this engagement online during the pandemic to support development of the Direct Access Booking service and NHS 111 First – a national initiative rolled out at pace to reduce the number of people in emergency departments and shorten queues by offering ED and onward care appointments, thereby helping to prevent the spread of COVID-19.
Healthwatch volunteers Lyn and John Gallimore, said, "We have been involved at all stages from helping to develop the specification, through to the evaluation of the bidders' responses, to the final procurement and the launch communication and engagement activity. It has been a remarkably interesting and rewarding experience. As we became more deeply involved our comments became integral to the whole process, which raised our confidence even more in offering the 'patient voice'."
Katherine Pitts, Chief Strategy and Transformation Officer at IC24, said: "We're very proud to receive this recognition and are even more proud of the way that our people and the patients who supported this work responded to the challenges presented by COVID-19, which really took hold as we prepared to implement the new service. As a social enterprise it is really important to us that we bring the patient voice closer to the design and delivery of services and have recently launched a patient network to support us with this."
SECAmb's Associate Director for Integrated Care (999 & 111), John O'Sullivan, said, "We are delighted the 111 service has been recognised this way. We regard the views of patients and the public as integral to programme and service design and will continue to explore new ways to involve and engage local people as we grow and improve."
Healthwatch Kent's Manager, Robbie Goatham, added, "Healthwatch Kent and Healthwatch Medway work with every single health and social care organisation across the patch to ensure that they are hearing the public's stories and using personal experiences to improve their services. This bird's eye view means that we see what's working well and what needs improving. Our Healthwatch Recognition Awards have given us the opportunity to take a moment to recognise and celebrate the best of health and social care in Kent and Medway. Congratulations to everyone who has been recognised."