Our Patient Forum Journey
In this short blog Jo reflects on the journey we've been on to develop a patient forum.
by
Jo Turner, Director of Quality Improvement
Healthcare
Patient Engagement
Quality Improvement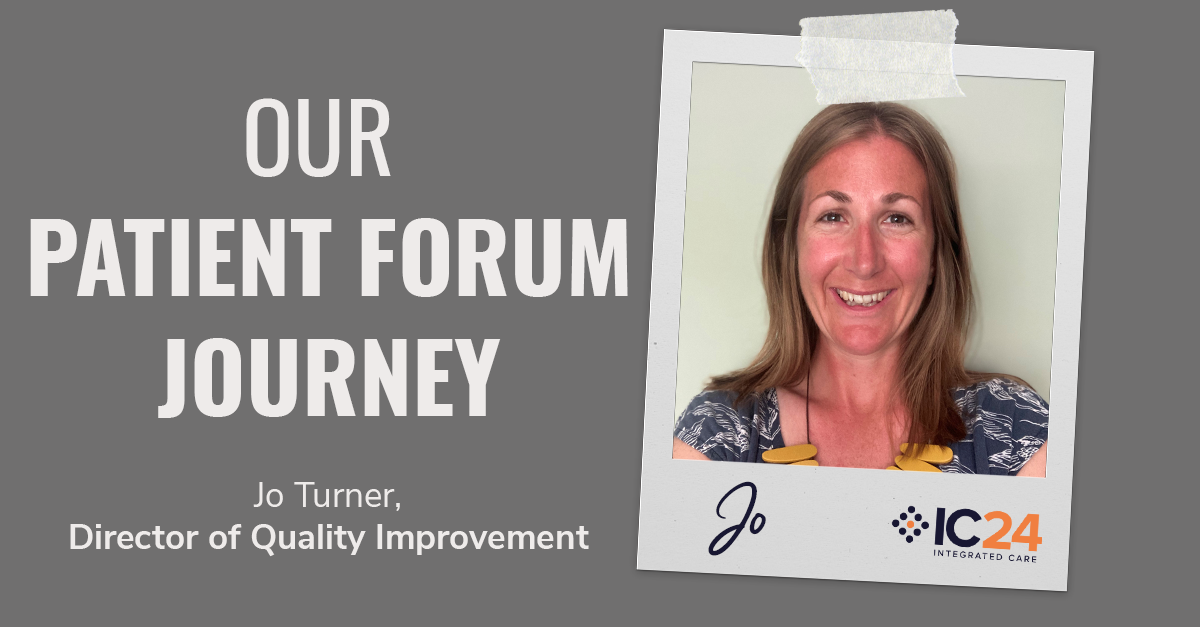 As we continue to develop our approach to patient involvement, in November 2021 we created our first patient forum to support us on our journey.
The whole reason IC24 exists, and why our people come to work each day, is to serve our patients, and support them to live their lives to the full, so we knew it was critical to bring members of the communities we serve on board to help us.
The purpose of the forum was:
To work in partnership with patients and involve them in decisions about their care

To listen to what 'best care' means to our patients

To involve patients and public in decisions about the way services will change and develop in the future

To support our patients in managing their own health and maximising their wellbeing
Before long we'll reach the first anniversary of the group, and since they first met our patients have already provided invaluable insight to support ongoing projects within the organisation and we're already recognising the value of their contribution.
As we developed an automated comfort messaging service for patients using our NHS 111 service, our representatives provided input on the wording for the messaging to ensure that it was written in a way that was meaningful for our patients.
The group have also helped us to review our patient experience questionnaire process and helped us move it online. To ensure that our process is accessible for all, our reps have also helped us liaise with voluntary, community and social enterprise organisations about assistive technology to ensure that everyone has equal opportunity to share their input. We have also 'road tested' other ideas with the group, such as the use of QR codes in our out of hours bases to support patients to let us know how they rated the quality of care we provided.
As our patient forum began to really evolve, conversation turned to its name. We agreed that it would be far more representative of the communities we serve to change the name to 'community forum', in recognition of the fact that views and input can come from a much wider group than our patients, and that the broader community has a valuable part to play.
Since the group started we have signed up 16 representatives across our regions, and are always looking for more people to join us. Evidence shows that when the public are involved decisions are better, health and health outcomes improve and resources are allocated more efficiently, so we are excited about the continued evolution of our community forum, how we can build on our partnership and hope to welcome more representatives soon!
If you're interested in finding out more about our online patient forum please check out the information pack below.