Meet the IC24 Team – Zoe Skinner
For the next instalment of our 'Meet the IC24 Team' series, we speak to Zoe Skinner, one of our Team Managers from our Ashford Contact Centre. Zoe joined IC24 in 2013…
by
IC24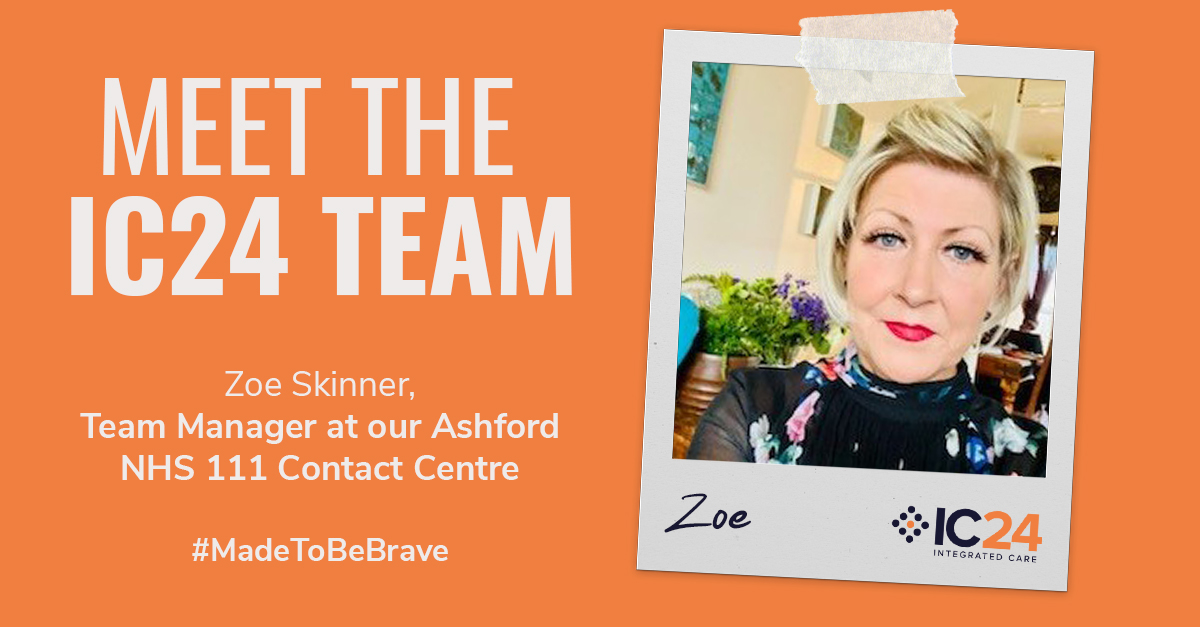 Meet the IC24 Team – Zoe Skinner - IC24
Over the course of the next year we'll be highlighting members of the IC24 team, exploring their backgrounds, roles, and unique perspectives, so you can get to know the people who are working hard for you.


For the next instalment of our 'Meet the IC24 Team' series, we speak to Zoe Skinner, one of our Team Managers from our Ashford Contact Centre. Zoe joined IC24 in 2013…

How long have you worked at IC24? And how did you end up in your current role?
I've worked at IC24 for over seven years. I started as a call handler, after working for the police for ten years. In the seven years I've been with the organisation, I've really seen the evolution of NHS 111. When I started, we only worked in one locality and took an average of five calls a night, which was very different to the police! As IC24 grew, our NHS 111 service also grew – things are way more fast-paced these days.


After getting my start as a call handler, I moved into our dispatch service as a Dispatch Controller. I carried on doing a variation of this role and my call handling duties. Less than a year into it, I was approached by my manager about becoming a Team Manager. I was encouraged to apply for it, and after a 40-minute presentation (following a gruelling night shift, no less), I got the job. I've been in the role ever since; no two days are the same!


Zoe, can you share three things about yourself that not many others may know?
I'm a very proud dog mum to my Pomapoo, Basil (a mix between a Poodle and a Pomeranian). He's such a gorgeous dog and loves everybody. He likes to welcome everybody we meet on our daily walk with a lick!

You'll only ever find me in platforms; I'm only 5ft tall. I remember stretching out in my sleep when I was younger, hoping I would get taller as I got older. I'm 50 this year, so I'm hoping it happens soon!

You'll also never see me without my false eyelashes on. An IC24 clinician introduced me to them six years ago and I've never looked back. I'll probably still be wearing them when I'm 90!


What do you enjoy doing when you're not working?
When I'm not working, I love spending time with my family. I have two teenage boys and we enjoy going on bike rides and walks in our local area. It's all about getting that work-life balance.


How has your role changed during COVID-19?
When the pandemic first hit in March 2020, we had a massive influx of calls. The policy and guidance changes on the virus were so frequent. We'd have an update in the morning, and by lunchtime it would change, and then again before the day was out. Like most people working in healthcare, keeping abreast of these challenges was difficult.


My role has evolved significantly as a result of this. As part of my role, I'd normally have an oversight on the operational queues of calls, but I now have oversight on clinical guidance queues as well. It's a constant process of mapping out the team's shifts to suit demand. My role is reactive, due to the everchanging needs of our patients and people.  


All my contact centre colleagues have worked tremendously well during the pandemic. It's been tricky for them to answer call after call during these extraordinary times. It was great to see how we banded together as a team during this difficult situation, working together to offer support and keep morale high.


Describe your role at IC24 in three words.
Varied – No two shifts are the same in this role. I love the variation it offers as I don't like to get bored!
Challenging – It can be challenging working in a 24/7 urgent care environment. It's a balancing act between what is required on shift, dealing with queries from the team, responding to communications in a timely manner, and monitoring workflows.
Interesting – It's an interesting role and I enjoy working with such a great bunch of people. We do have some difficult calls, but we deal with them well and have good de-briefs afterwards.


Thanks to Zoe for taking part and stay tuned for the next instalment of 'Meet the IC24 Team'. You can find out more about our brilliant people by searching #MadeToBeBrave on Facebook, LinkedIn, Twitter, and Instagram.