Meet the IC24 Team – Steph White
For the next instalment of our 'Meet the IC24 Team' series, we speak to one of our Registered General Nurses, Steph White, from HMP Elmley (part of the HMP Sheppey Prison Cluster).
by
IC24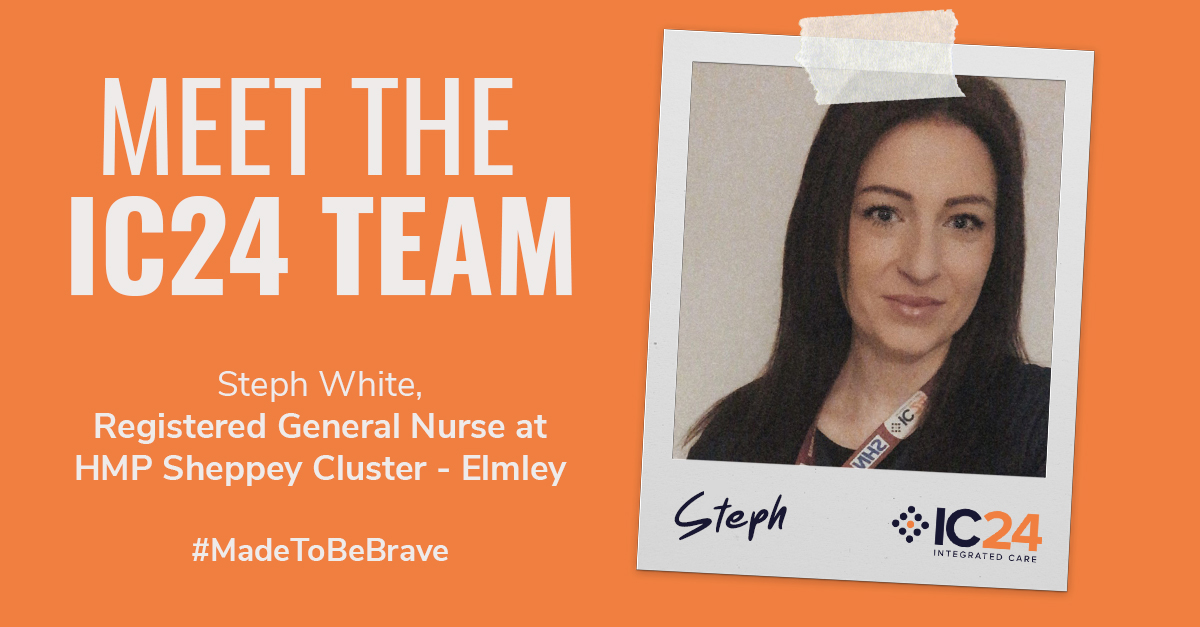 Meet the IC24 Team – Steph White
Over the course of the next year we'll be highlighting members of the IC24 team, exploring their backgrounds, roles, and unique perspectives, so you can get to know the people who are working hard for you.


For the next instalment of our 'Meet the IC24 Team' series, we speak to one of our Registered General Nurses, Steph White, HMP Elmley (part of the HMP Sheppey Prison Cluster). Steph joined IC24 in 2020…

How long have you worked at IC24? And how did you end up in your current role?
I've worked at IC24's HMP Sheppey Prison Cluster for the last eight months, I'm based at HMP Elmley. Throughout my training as a nurse, I'd always had an interest working in prisons, but was unsure on how to get a role in this environment. I then met a fellow nurse, who was working for an agency and had begun working at the HMP Sheppey Prison Cluster. I asked her lots of questions about her work, and, alongside this, my mentor from university joined IC24 and encouraged me to apply for a role.


Steph, can you share three things about yourself that not many others may know?
I collect rubber ducks from all over the world - I have 43 at the moment!

I love personal development, as I'm very ambitious. Each year I create a vision board full of goals that I'd like to achieve in the next 12 months. Alongside this, I have a motivational life coach.

I worked at Butlin's in Minehead as a Security Officer in 2007. This began my interest in healthcare, as I assisted with medical incidents. It was this role that inspired me to pursue a career in helping people in emergency situations. 




What do you enjoy doing when you're not working?
When I'm not working, I love going to the gym (when they're open), meeting friends for any type of food, and watching Desperate Housewives in my pyjamas.


How has your role changed during COVID-19?
During COVID-19, we've limited interactions with residents due to self-isolation. Regimes have also changed within the house blocks, as some residents are seen in their cells by GPs and nurses, rather than in the outpatients' department. There has also been a big increase in the use of PPE.


Describe your role at IC24 in three words.
Rewarding – Seeing someone go from the care and separation unit to gaining a job on the house block and working towards their release, is such a positive thing to witness. Playing a part in someone's healthcare journey will always be rewarding to me, as I love helping people and delivering the 'gold standard' of care. Whether it's signposting at a triage appointment, booking and making referrals, or providing emergency care. 
Collaborative – My role requires me to collaborate with a range of professionals. This includes The Forward Trust, mental health support workers, prison officers, probation, podiatry, dentists, GPs, educators, opticians, radiographers, and religious leaders. These are all people that I engage with on a daily basis to provide care for patients.
Innovative – Working as a nurse in a prison setting has meant that I've needed to adapt and vary my communication skills to support residents. Caring for residents can include educating; supporting mental health concerns; supplying medication; providing urgent and emergency care; and flagging concerns with other services. The list is endless.


Thanks to Steph for taking part and stay tuned for the next instalment of 'Meet the IC24 Team'. You can find out more about our brilliant people by searching #MadeToBeBrave on Facebook, LinkedIn, Twitter, and Instagram.