Meet the IC24 Team – Richard 'Reg' Gray
For the next instalment of our 'Meet the IC24 Team' series, we speak to one of our Drivers, Richard 'Reg' Gray, from our Roving GP Service in Brighton and Hove.
by
IC24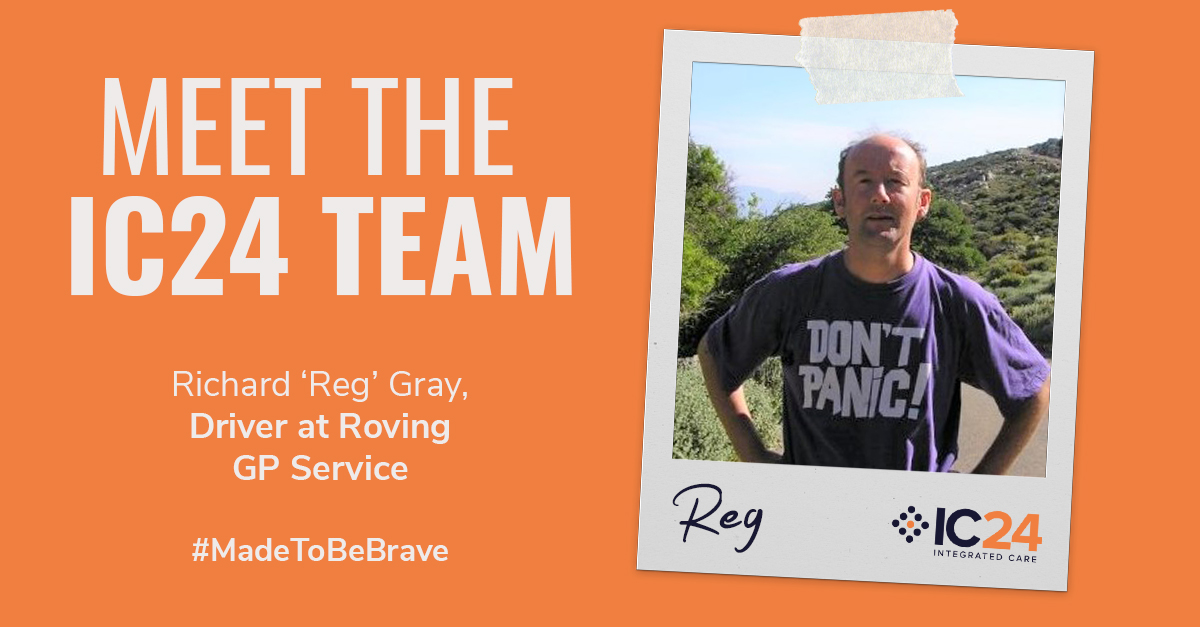 Meet the IC24 Team – Richard 'Reg' Gray
Over the course of the next year we'll be highlighting members of the IC24 team, exploring their backgrounds, roles, and unique perspectives, so you can get to know the people who are working hard for you.


For the next instalment of our 'Meet the IC24 Team' series, we speak to one of our Drivers, Richard 'Reg' Gray, from our Roving GP Service in Brighton and Hove. Reg joined IC24 back in 2004…

How long have you worked at IC24? And how did you end up in your current role?
I've worked for IC24 for 17 years. When I started in 2004, the organisation was known as Bright Doc and then South East Health. I originally took the job as it was just around the corner from where I lived.


When I started the role, it was very varied. As well as driving doctors to and from their appointments, I'd also be performing reception duties and taking calls directly from patients in a tiny office. Fast-forward to today, I focus almost entirely on home visiting services.


Reg, can you share three things about yourself that not many others may know?
Before my time at IC24, I published a novel called The Importance of Being Drunk. I partnered with a Brighton publisher to print and market it. The story is all about a businessman called Alan Bland who is facing retirement and devises a cunning plan for the future of the family firm. The novel focuses on how Alan gets his two wayward, drunken sons to fit into his manipulative plot! The book did well in Brighton and still exists in good charity shops today. You can also find it on Amazon.

Although I work as a driver, I've never owned my own car. Although, I did borrow my sister's old banger for a couple of years!

Like many other drivers at IC24, I had a completely different career prior to my driving days. I used to work as a food scientist and psychologist at the University of Sussex. I spent most of my working life in academia and I suspect that my lifelong interest in psychology has helped me with my role at IC24.




What do you enjoy doing when you're not working?

When I'm not working, I love going on country walks with my kids. Some of my favourites include Friston Forest and the South Downs Way. I also enjoy walking along the cliffs to the east of Brighton, but only if the weather looks right - I spend a lot of time reading weather reports!


How has your role changed during COVID-19?
The nature of the role hasn't changed much. Of course, there's the added complexities of using PPE, but the job itself hasn't changed. As pointed out by Marian in her recent 'IC24 Star of the Month' piece, unfortunately, there has been more deaths during the pandemic. I work closely with Marian, who specialises in end of life care at local nursing homes and step-down bed facilities. I really do want to highlight all the work Marian has done during the pandemic; she's had a really tough time. We all have a lot of respect for each other, as we've been working together as a small team for more than a decade.


Describe your role at IC24 in three words.
Crazy - Driving doctors around is a fast-paced role. It's open to your own interpretation, but every car journey is helping patients and taking pressure off the NHS.
Consistent - The job is both consistent and inconsistent. Although what I'm doing on a day-to-day basis doesn't change, every case is unique. I enjoy both the consistency and inconsistency of this job!
Constant - There's always a need for what we do, as we're helping to take things off doctors' minds to help them focus on patient care. I've been in this role for nearly 17 years and plan to see it through to retirement.


Thanks to Reg for taking part and stay tuned for the next instalment of 'Meet the IC24 Team'. You can find out more about our brilliant people by searching #MadeToBeBrave on Facebook, LinkedIn, Twitter, and Instagram.