Meet the IC24 Team – Bob Higgs
For the next instalment of our 'Meet the IC24 Team' series, we speak to one of our Drivers, Bob Higgs, from our Essex OOHs service.
by
IC24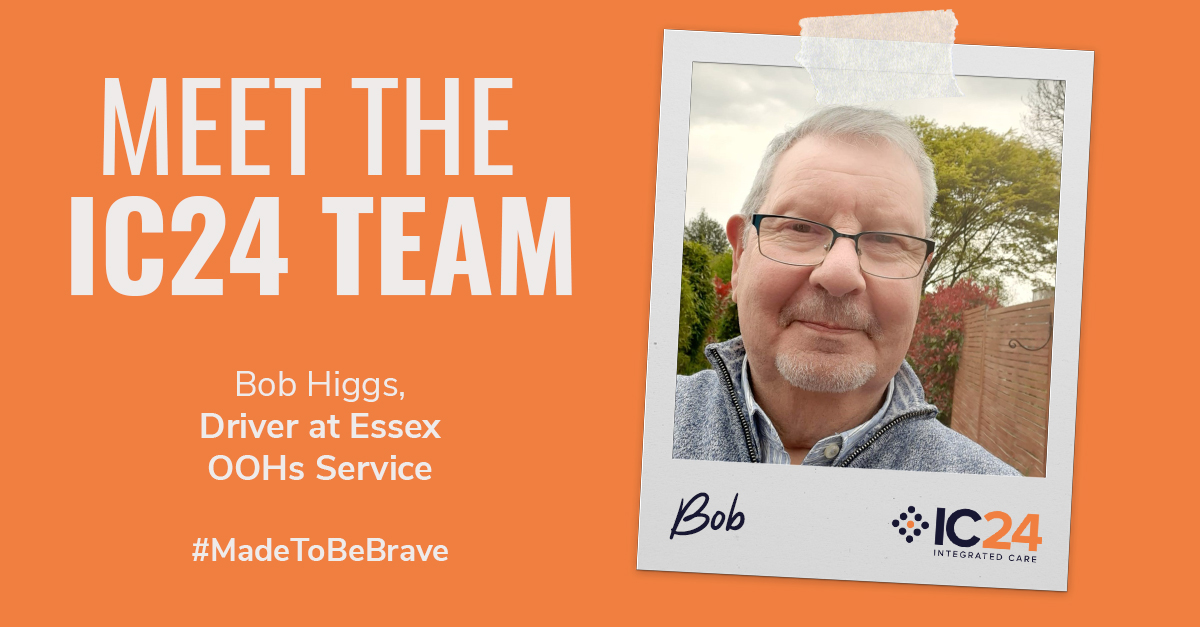 Meet the IC24 Team – Bob Higgs
Over the course of the next year we'll be highlighting members of the IC24 team, exploring their backgrounds, roles, and unique perspectives, so you can get to know the people who are working hard for you.


For the next instalment of our 'Meet the IC24 Team' series, we speak to one of our Drivers, Bob Higgs, from our Essex out of hours (OOHs) service. Bob joined IC24 in 2012…

How long have you worked at IC24? And how did you end up in your current role?
I've worked for IC24 ever since they took over the out of hours (OOHs) contract in South Essex in 2012. I've worked in OOHs since 2006, in both East London and Essex.


Before this, I used to have my own company, repairing and selling photocopiers for 15 years. I was bought out by my business partner, and this is when I first started working in OOHs. In my 15 years working in this environment, I've worked in many different roles, ranging from being a bank receptionist to becoming an operations manager.


Bob, can you share three things about yourself that not many others may know?
I used to parachute when I was in my late teens in an airfield near Ashford. We spent a lot of time waiting for the 'perfect parachuting weather'. I also vividly remember being told to be careful of a certain garden, as someone kept tigers!

I nearly ran over Terry Wogan. I know I probably shouldn't say this as a driver, but it was a long time ago and a complete mistake. In the late 80s, I worked in a side road near Regent Street and Terry walked out in front of the car I was driving. I didn't even realise it was him until I emergency stopped!

Some people may be surprised to hear this, but I'm a TOWIE (The Only Way is Essex) fan. As I'm based in Essex, it's interesting to see a reality television soap opera based right here in Brentwood.


What do you enjoy doing when you're not working?
In usual times, when I'm not working at the weekend, I like to support the 'Romford Raiders' – an ice hockey team based in Romford. I've supported them for nearly 29 years and it's a great way to spend time with friends and have a drink. I've also really gotten into cooking since the pandemic and enjoy making a variety of meals. 
How has your role changed during COVID-19?
Like most people, the added complexities of PPE has been the main change within my role, along with being extra mindful of cleanliness and colleagues. During the first few weeks of the initial lockdown, I contracted the virus and took six weeks to recover. It was quite scary, especially as I could barely walk to the kitchen. I was gradually able to get myself back to my level of fitness and return to work. My wife likes to joke that I went on the 'COVID diet', as I lost a stone. I feel that COVID-19 has brought into play how fragile we all are. It's also made me think more about what my other colleagues are going through, as I know it's been particularly tough for those who have family in other countries and have been unable to see them for a long time.


Describe your role at IC24 in three words.
Rewarding – A career in patient care is highly rewarding, as you're really helping people. It's nice when you get a doctor to a job and they turn to you to say that they're glad we came to this job first, as the patient was very unwell and needed our help. When dealing with elderly patients, I always try to keep in mind how I would like my own grandparents and relatives to be treated. It's important to keep sight of the person behind the case or phone call. 
Teamwork – I really enjoy the teamwork aspect of my role. When you work with the same people, you get a good understanding on how to collaborate best with them.
Enjoyable – I really enjoy my work – especially the comradery and teamwork. I wouldn't do this job if I didn't enjoy it! If you work on the base, you've got to crack a joke every now and again, as it can get very serious and stressful.


Thanks to Bob for taking part and stay tuned for the next instalment of 'Meet the IC24 Team'. You can find out more about our brilliant people by searching #MadeToBeBrave on Facebook, LinkedIn, Twitter, and Instagram.