International Women's Day: Choose to Challenge – An inspiring Q&A with three IC24 female leaders
In recognition of this special day, we spoke to three of our female leaders about their careers and lives outside of work.
by
IC24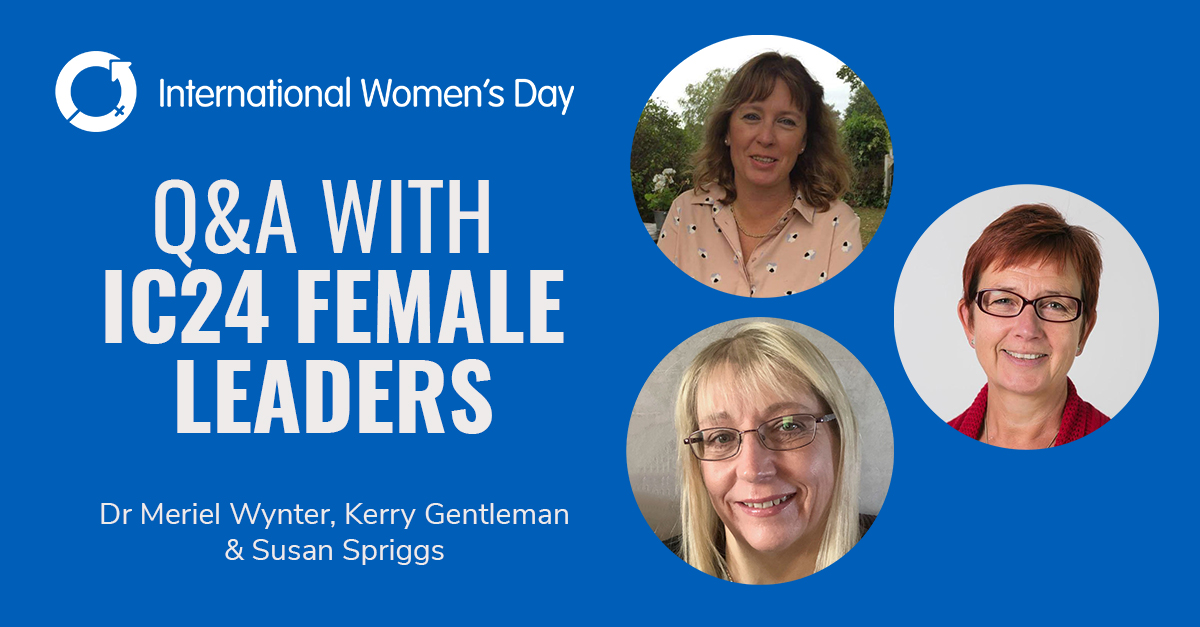 International Women's Day: Choose to Challenge – An inspiring Q&A with three IC24 female leaders
Today marks International Women's Day, a celebration that recognises the women who have come before, laid the groundwork, and fought for the rights of all. Whilst we all know that gender parity within the workplace has improved, we also know that there is still a long way to go.

At IC24, we're focused on building a culture that values diversity and inclusion. In recognition of this special day, we spoke to three of our female leaders about their careers and lives outside of work.


What is one piece of advice you would give to all women who are juggling home and work?


Dr Meriel Wynter (Medical Director of Clinical Outcomes and Performance): The juggle never goes away. You think it'll get better in a year or month, but it's important to follow your heart. If the juggle is too much, then try to pivot your career as you can always pick it up later on. Children grow up quickly and that's time you'll never get back - enjoy it!


Kerry Gentleman (Non-Executive Director): You can't be all things to all people. Set boundaries and communicate clearly. Collaboration and teamwork are key.


Susan Spriggs (Head of Systems Development - IT): Don't put extra pressure on yourself when trying to balance home and work life. We're our own worst enemies. Make sure you find the time to look after yourself too!


Can you tell us a bit about your background and how you entered healthcare?


Dr Meriel Wynter: I've always known that I wanted to be a doctor from a small age. I went to university at 17 and joined my first partnership at 24. Back then, you thought you were joining a partnership for life. It was quite a transition for myself and the other partners, as I was their first female doctor and partner. In those first few years, I made sure to do everything I possibly could, as there was little to no job security due to the 'green socks clause'. This clause allows a partner to be expelled on 'no fault' grounds.


After chairing the Sevenoaks care meeting through the partnership, I joined up with another female Sevenoaks enthusiast. It was with her that we started out of hours or 'on call' work. We stayed in contact and she started work at On Call Care (a predecessor to IC24) and recruited me into my next salaried role. Alongside this, she also secured me a space on the CCG board. These roles revolutionised my life as it allowed me to spend time with my family, as I worked 10am to 2pm each day or weekends and nights. Whilst I didn't get a lot of sleep, it meant that I was there to pick my children up from school, see their sports days and walk the dog. They even said that if my children were sick, I would be allowed time off and could bring them into the next room to play with puzzles and other staff. I'm so grateful to my colleague for this opportunity, as she didn't gain anything from being kind to me. She was just really loyal.


Kerry Gentleman: I started my career as a trainee student nurse after leaving school in 1977. I trained at the University College Hospital in London and then staffed on the ICU, before leaving to do my district nurse training in 1981. Following this, I became a full-time district nurse in Bromley for seven years, before going part-time after having children. When working part-time, I had a range of contracts which allowed me to work up the ladder in clinical governance - the work was varied and ranged from managing GPs to organising nursing and therapy services.


I then moved into a role at Bromley Healthcare, progressing to Director of Nursing and Quality. My role had a very large remit and covered quality, clinical standards, and governance. During my time there, I was part of the senior team that was responsible for moving the organisation into social enterprise status, which was no easy task. Sadly, I was made redundant after working there for 31 years. This was very upsetting, and I do refer to this time as a 'dark period'. Like many others, I went through a stage of thinking that it was all my fault and that I was useless.


Although it was an awful experience, it did push me to think about what I really wanted from my career, and also taught me resilience. When I was deciding on what I wanted to do next, I had some mentoring sessions with a coach, which led me into consulting with Price Waterhouse Cooper (PwC). This helped my confidence and I started to believe in my skillset and knowledge again. During my time as a consultant, I worked with The Queen Elizabeth Hospital King's Lynn NHS Foundation and Chelsea, Westminster and West Middlesex University Hospital.


I then decided to move to Hastings to adopt a country lifestyle, after several family members became unwell. The situation made me take stock of my life. Whilst I don't formally work anymore, I'm a Non-Executive Director with IC24, leading on quality and clinical governance and also sit on the Trustee Board for my local hospice. I'm also a community first responder and email counsellor for the NSPCC. 


Susan Spriggs: After having my first child in 1996, I soon realised I wasn't cut out to be a stay at home mum and needed both the financial independence and social benefits of working. I joined IC24 in 1997 as an overnight call handler, and once I was settled in the role, began to take on some receptionist shifts. This gave me the best of both worlds, as it allowed me to be a full-time mum to my three children whilst holding down a job. I was fortunate that I had such a great support network of friends and family.


When I first started my role, every clinical assessment was recorded on triplicate paper. The overnight staff would then fax the top sheet over to the patients' registered practice for their reference, and case details were passed to clinicians using CB Radios! The process was then transformed, as we moved to recording patient information electronically. Firstly, using the CLEO 'Classic' solution and then a CLEO browser-based solution. In 2008, I was promoted to Shift Manager, where I supported line management tasks for in and out of hours dispatch.


In 2010, the organisation went through a restructure and the operational role I was offered wasn't right for me. I was then asked if I would consider a new role within the IT Department as their IT Project Administrator. Financially, I knew I was going to be worse off, and alongside this, I worried about my lack of project management skills. Although I had some concerns, I knew CLEO Systems from an end user perspective and could complete basic IT troubleshooting whilst on shift. My children were all at secondary school, so I had nothing to lose by giving it a chance.


As part of this new role, I was asked to support the writing of test scripts to support the NHS Digital Spine accreditation. This is when I started to believe that I'd found a career path that really interested me. I strengthened my new skills by taking the PRINCE2 Foundation in Project Management in 2010 and qualified as an ISTQB - ISEB Certified Tester in 2013. I was then promoted to System Tester and Analyst. Behind the scenes, I continued testing CLEO Systems and liaised with the technical team on problems. Through this, I began to learn more and more about what happens behind the scenes. I progressed over the years and was promoted to Head of Systems Development in 2018.

Have you faced any challenges within your career? And if so, how did you overcome them?


Dr Meriel Wynter: I was the first female GP at a Sevenoaks surgery and also the first female to join a local CCG board. I remember walking into a sea of men in suits for the CCG board meetings and felt somewhat out of place. I remember thinking "What have I done?!". My first step to overcoming this, was breaking their perception of me, as they thought I was really ambitious, but that wasn't the case. I remember that the meetings used to start at 1pm and end at 7pm and I'd have to leave early. There were many times when I had to walk out of formal meetings too. At that time, I thought that the worst thing that can happen is they'll say they don't want me to do it anymore. As time went on, I think other board members realised what it was like for their wives - having to juggle everything. They became more and more understanding, especially when I needed to pick up my children from school during winter. I tried to get to know each of them individually and this helped too.


I worked shorter days, seven days a week, until a couple of years ago, so I'd always be available to my children. I only finished working nights five or six years ago! My three daughters are now grown up. My eldest daughter is a junior doctor at Maidstone and Tunbridge Wells NHS Trust, our middle daughter is a professional genealogist and my youngest is at university.


Kerry Gentleman: As explained above, there has been several challenges within my career, the biggest being made redundant. I also remember a particularly difficult time when I worked as a nurse practitioner in private care homes, supporting enhanced clinical care and educational support. When I started the role there was some controversy, as half the care homes were unhappy that I was involved, and the other half didn't see a need for the work. To overcome this, I worked with the ones who were willing to work with me and found that the other care homes followed suit within a year.


Susan Spriggs: My biggest challenge was my own self-confidence and doubting my abilities. I was fortunate enough to have a line manager who believed in me and trusted my ability. He continued to challenge me, even when I doubted myself and pushed back. Another challenge was picking up and understanding the technologies we used. Although, this did give me an advantage, as it meant I had to keep questioning our IT teams to ensure we could relay information back to the business in a user-friendly way.

When I first joined the IT team it was definitely a man's world - but so much has changed since then. I've walked into IT meetings in recent years and have found that women sometimes outweigh men. Overall, I've found working with men the same as working with women - they both talk about what they're wearing to the Christmas party!

What advice would you give to your 20-year old self?

Meriel Wynter: Be brave and be flexible. Don't lay your future out too rigidly, as you don't know what's going to happen. If you reach a signpost, just choose a way. Don't stick to doing something forever if you don't like it.

People may be surprised to hear that I left school at 16. We're taught to believe that we have to go through a set route to get into medicine, but you can break barriers even at a young age if you've got determination!

Kerry Gentleman: Be flexible and be bold. Recognise your worth and be kind to yourself.

Susan Spriggs: This is a cliché, but it's true - we're capable of doing anything we set our minds to. If you accept the challenges that are thrown at you, you'll learn through the mistakes you make. Don't ever be afraid to ask silly questions. I've now realised that if I'm asking a silly question, it's because it isn't clear enough!

Away from healthcare, what do you enjoy doing outside of work?

Meriel Wynter: I love being with family, gardening, dog walking and being outside. I was given a border terrier for my fortieth birthday, and this signalled a great change in my life when I began working more flexible hours. Sadly, he died four weeks ago, but he had a lovely long life in the countryside. Just before lockdown last year, we also adopted a miniature dachshund. It was lovely that both dogs were able to spend some time together.

Kerry Gentleman: I love singing! I'm part of several clubs and societies including the Hastings Philharmonic Choir and the local dramatic arts club. I also spend a lot of time outside in the garden looking after my various animals - I have eight chickens and one dog.

Susan Spriggs: I really enjoy spending time with my family. Pre-COVID, you'd find me watching my daughter play football or my sons taking part in 'banger racing' at the weekends. The pandemic has put a stop to this for the time being, but instead, I've taken up baking and have found that it really de-stresses me. I've baked all my kids' birthday cakes this year.


How can women better support each other instead of competing? What needs to change in your opinion?


Meriel Wynter: The support I've had has come from both males and females, and I've never encountered competition. The females I've worked with over the years continue to support me to this day - in and outside of work. I must say that I've always been lucky with male bosses, as they've been kind and flexible to my working arrangements. It's a small world for women in business, especially in the NHS, so always be kind, as you never know who you'll bump into.

Kerry Gentleman: Keep true to yourself. We all have our own values and visions of what is acceptable, I believe in holding people to this in a fair and constructive way. We need to continue to empower and educate women together.

Susan Spriggs: I can't recall ever having to compete with other women. Whilst I'm ambitious and like a challenge, I'm happy with where I am. I think it also helps that I never compare myself with anyone else in the organisation. When speaking to my team about progression, I advise them to think about what's the best next step for them - and not to think about who's in the job now. It's about your own personal goals.

Thanks to Meriel, Kerry and Susan for taking part in IWD 2021. You can find out more about our brilliant people by searching #MadeToBeBrave on Facebook, LinkedIn, Twitter, and Instagram.