Meet the IC24 Team – Heather Henry
For the next instalment of our 'Meet the IC24 Team' series, we speak to one of our Registered General Nurses, Heather Henry, from our Hastings Primary Care Hub.
by
IC24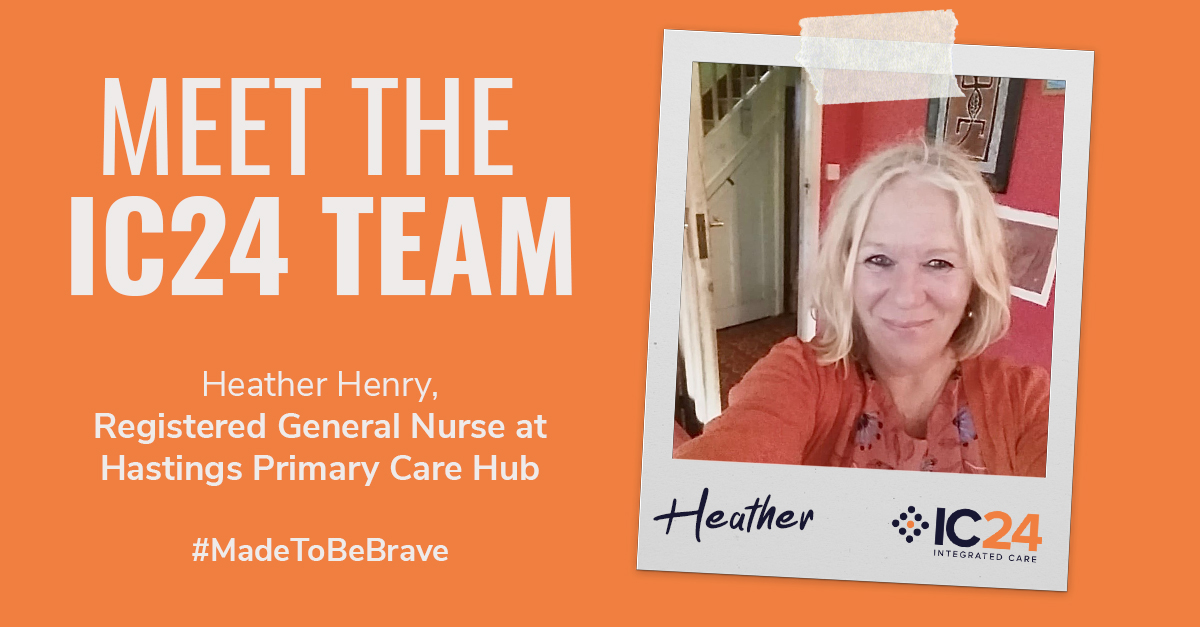 Meet the IC24 Team – Heather Henry
Over the course of the next year we'll be highlighting members of the IC24 team, exploring their backgrounds, roles, and unique perspectives, so you can get to know the people who are working hard for you.


For the next instalment of our 'Meet the IC24 Team' series, we speak to one of our Registered General Nurses, Heather Henry, from our Hastings Primary Care Hub. Heather joined IC24 back in 2011…

How long have you worked for IC24? And how did you end up in your current role?
I've worked at IC24 for ten years and started in 2011 on a part-time basis, whilst working two other nursing contracts. The realities of working multiple jobs can be complex, so I was keen to get a full-time role. In February 2015 there was an opportunity for me to join the team on a full-time basis, and the rest is history.


What I've always enjoyed about my role at IC24's Hastings Primary Care Hub, is the variety of primary care work. I come from a varied nursing background, half of my career has been spent working in A&E and the other half in practice nursing. My role encompasses both of these experiences, which is why I find it so rewarding.


Heather, can you share three things about yourself that not many others may know?
I'm a qualified scuba diver and active sea swimmer – I completed all my training in the English Channel.

I speak Italian. Just before I started my nursing contract in London, I decided to get a job as an au pair in Italy. I spent time at Lake Maggiore in Northern Italy and Piacenza, near Milan.

One of my favourite hobbies outside of work is belly dancing. I've always loved dancing and practised ballet for many years. I now belong to a local belly dancer group called ICENI, and in usual years, we'd perform several charity gigs in Hastings. I've had to resort to belly dancing around my living room during the pandemic!




What do you enjoy doing when you're not working?
When I'm not working, you'll find me sea swimming! Even throughout winter, I try to swim as often as possible. I've recently signed up to the British Divers' Marine Mammal Medic training course, as I'm often joined by a couple of seals during my daily swims. The course will combine my medical and diving experience to help marine animals in distress. Unfortunately, this course has been postponed twice due to the pandemic, I'm hoping it'll be rescheduled for later this year!


I also love spending time with my family, as well as reading and going to concerts. 


How has your role changed during COVID-19?
To be honest, it has changed dramatically – and I think this has been experienced by many others during the pandemic. Just before the virus hit, we changed our operation into a primary care hub. This means that the hub no longer holds a registered list of patients; so, residents and visitors of the town can attend, regardless of whether you're registered with a GP practice. It's been difficult to move this change forward during the virus, so it'll be interesting so see how the hub develops over time.


Whilst we still offer face-to-face sessions, the majority of our appointments now take place via telephone consultation. Adjusting to this way of working and assessing patients' needs virtually has been an interesting transition.


Describe your role at IC24 in three words.
Rewarding – It's a rewarding role and you never know what each day will bring. As I started my medical career working in A&E, I've always worked well under pressure. Thinking on my feet is my forte! 
Challenging – This job is challenging, but nothing really phases me. I must admit that working throughout the pandemic has been particularly tough.
Interesting – I'm a 'people person' and have always found working with the public interesting and amusing! I also enjoy the variety of work, as it means you get to encounter different situations and problems, which allows me to flex my creative problem-solving skills.


Thanks to Heather for taking part and stay tuned for the next instalment of 'Meet the IC24 Team'. You can find out more about our brilliant people by searching #MadeToBeBrave on Facebook, LinkedIn, Twitter, and Instagram.