Meet the IC24 Team – Belinda Middleton
We're kicking off our 'Meet the IC24 Team' series with one of our Non-Clinical Coaches, Belinda Middleton, who works in our Norfolk and Waveney NHS 111 Contact Centre.
by
IC24
Over the course of the next year we'll be highlighting members of the IC24 team, exploring their backgrounds, roles, and unique perspectives, so you can get to know the people who are working hard for you. We're kicking off our 'Meet the IC24 Team' series with one of our Norfolk and Waveney NHS 111 Non-Clinical Coaches, Belinda Middleton, who joined IC24 in 2018.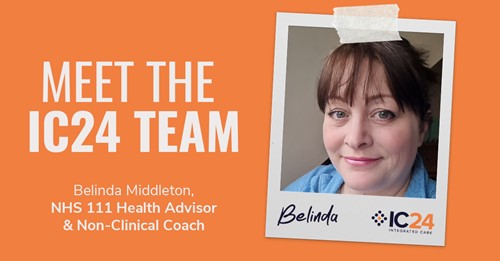 How long have you worked at IC24? And how did you end up in your current role?
I've worked at IC24's Norfolk and Waveney NHS 111 Contact Centre for two and a half years. When my children were young, it was important for me to work nearby in my local village. But after they left school, I started to look for a more fulfilling role, which led me to becoming a Health Advisor at IC24. This may be surprising to some people, but this is actually the most rewarding job I've ever had, as you have a real opportunity to make a difference to people's lives.

That's why I was delighted when I became a Non-Clinical Coach last year. As well as being the first point of contact for our patients in a Health Advisor capacity, I now support the team and new starters with training and guidance. I really enjoy helping people learn, it's very fulfilling!


Belinda, can you share three things about yourself that not many others may know?

I love to sing! In my spare time, I enjoy singing and even have some experience as a backing vocalist in 60s and 70s songs.
Before COVID-19, I was part of a local, amateur dramatics club, where I had the opportunity to perform and act. The pandemic has sadly put a stop to this for the time being!
I'm also a clarinet player and used to play with a local brass band, together with my son who plays the trumpet - but, as many people can relate, life got in the way and I had to leave the band. I still try to play at home whenever I have the chance.


What do you enjoy doing when you're not working?
When I'm not working, I enjoy spending time with my two Labradors. I also love to cook and eat way too much. Like many others, I'm also partial to a 'Netflix-binge' and enjoy cosying up to watch a fictional crime drama after my shift.


How has your role changed during COVID-19?
I don't think you'll be surprised when I say we've become a lot busier. When the first wave hit, it was a difficult and draining experience - especially as there was a constant stream of new information and guidance. The whole experience was a learning curve and has probably been one of the most extraordinary things to happen within mine and my colleagues' careers. Now we all know more about the virus, we're getting less COVID-related calls and feel better equipped with a dedicated NHS Pathway.  

Describe your role at IC24 in three words.
Interesting - There's never a dull moment in this job; you never know who you're going to help and how many calls you'll receive each day.

Rewarding - It can be a difficult job, but you do get the sense that you're truly helping people in need.  
Beneficial - My role benefits the public, but also benefits me. This job has really shown me what I'm capable of as a person and continues to help me grow. I've successfully completed a QCP (Quality Champions Programme) course which has enabled me to have some input into the systems we use. Through this course I was given the tools to streamline our systems and improve the patient experience. I hope to continue this in the future. Alongside this, I've also had the opportunity to take part in some distanced learning, which I also hope to continue in the future.


Thanks to Belinda for taking part and stay tuned for the next instalment of 'Meet the IC24 Team'. You can find out more about our brilliant people by searching #MadeToBeBrave on Facebook, LinkedIn, Twitter, and Instagram.